Yes, you read the title right. I'm talking about the books I read in August … in the middle of September. It's partially not my fault as I've been very busy with life, but also I've been rather lazy. But anyway, better late than never, as they say!
August was an okay reading month for me, as I didn't read as much as I expected to, but I did read a large quantity of pages. Because of the Tome Topple Readathon that occurred this month, I ended up reading two books that were over 500 pages, in addition to two other books. So overall, not terrible. On to the books!
The Sacred Lies of Minnow Bly by Stephanie Oakes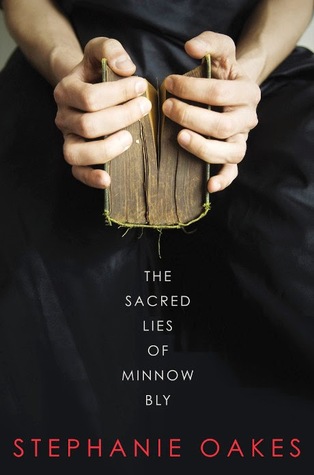 The Sacred Lies of Minnow Bly is a novel unlike anything that I've ever read before, which is surprising, given its subject matter. Dark cults, mysterious murders, and resilient female characters are right up my ally, and because of all that combined with the rave reviews, I had very high expectations going in. Luckily, I was not disappointed! This is the story of seventeen year old Minnow Bly who has no hand. This is the the story of a girl used to be part of a cult, and the secrets she possesses of the downfall of the aforementioned cult. I don't want to reveal any more, because I feel that it's best to dive into this novel as blind as possible.
Though what happened to Minnow's hands and the destruction of the cult are two very compelling mysteries, the strength of this novel lies in the complex relationships it constructs between characters. Minnow's friendship with another girl, Angel, is in particular extremely heartwarming, as is her relationship with a boy named Jude, and both nearly moved me to tears. The members of the cult are fascinating and deeply real people, especially Minnow's father, whom we get to see more than any of the others. The same can be said for the people Minnow interacts with after the end of the cult, and her interactions with each one of them is interesting in its own way.
This is not however, just a character driven novel, filled with deep introspection and an intimate look at people (though there is plenty of that). Be warned: there are several extremely gruesome and haunting scenes, so upsetting that I almost felt I were watching a movie and not simply reading about them. There were times when I'd close my eyes to avoid having to read such horror. But it was worth it: it only made the book all the more emotional.
Deeply moving, The Sacred Lies of Minnow Bly was a harrowing, intense, and traumatic experience, but I loved every moment of it.
Marlena by Julie Buntin 
I was very ambivalent about whether I actually wanted to read this book or not. The synopsis sounded rather generic, something that I'd read a million times before, but a reviewer that I've been following for quite some time now really loved this novel. I should have gone with my gut, because I found Marlena to be unimpressive and unoriginal.
The main character (whose name I have forgotten and had to look up), Cat, looks back on her teenage years and her intense relationship as a teenager with the titular Marlena, which was cut short by the latter's untimely death. These "flashbacks" are interspersed with the present day, in which the effect of Cat's past is illustrated. Toxic female friendships, precocious teenagers, and dysfunctional families are not uncommon in fiction, but when done well can be extremely moving.
Unfortunately, Marlena brings nothing new to the table. It is filled with the same tired archetypes: the older, edgier, more experienced girl, the naive, "pure" one who follows in the former's path, the messed up family- it's all been done before. Though the novel is told in first person through Cat's point of view, a large portion of it focuses on Marlena as seen through Cat's perspective, and as a result, Marlena becomes a more interesting, dynamic character, while Cat falls flat. She is difficult to empathize with; as a teenager she reads as whiny, ungrateful and unsympathetic- as an adult, she is almost devoid of personality. Cat's one dimensional-ness also causes the novel to drag at times, there were several moments throughout when I was simply bored.
And yet, Marlena succeeded in getting me to care about Marlena, despite some of her very stereotypical characterization. Because at the end of the day, I was reading about a teenager who had had an undeservingly harsh life, and to watch as she was given moments of hope, only to realize that by the end she would die anyway, was rough. And to that I will concede that some may find this very affecting. Sadly, I did not.
---
The next two books that I read were for the Tome Topple Readathon, which was from August 4th to August 17th. The goal of this Readathon was to read books over 500 pages, and while I didn't finish all four novels I planned to get to, I did end up reading two, which I am definitely happy about.
Total Pages Read: 1230
Total Books Read: 2
I've already discussed my thoughts in full about both of these books, so I'm not going to talk about them here, but if you'd like to know my feelings, click on the covers!
That's all for now. Happy readings!